Mast raising will start at 09:00. We look forward to seeing you there!
We will be proceeding with mast raising on Saturday morning starting at 09:00. We will provide an update by 08:00 is there is any change in plans due to weather.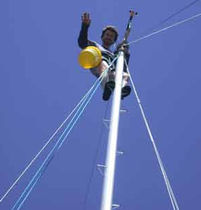 We will be stepping masts on Saturday, May 18th starting at 09:00am. Based on tides, we will be starting with the shallower draft boats. To avoid congestion, owners lease do not bring your mast to the staging area until asked to do so.
Mast operations are weather dependent, so check back here on Friday for an update.
Thanks  a bunch for all of your collective efforts during lift-out.  This weekend certainly served us well with one of the most efficient lifts yet – big thanks to our key people and lift-master – Stephen Decker.  As our Club and the Marina evolve – I'm sure that more than one of us took the opportunity to enjoy the event and reflect on all our past lifts, the Good the Bad and the Ugly.   For many of us Lift in Day is like Christmas- full of anticipation, some apprehension, plenty of preparation and well deserved rewards.   Well Done everybody – now to stick the masts.  Stay tuned for more info.
jt